---

---

eyore's Picture Album
| | |
| --- | --- |
| A good day. | A bad day. |
| Happy | Sad |
| Up, up and away he goes. | Make a wish, Eeyore! |
| | |
| --- | --- |
| Eeyore fell in the river. | Calling for someone to help him. |

Eeyore catches the moon


Eeyore's ready to play
"Pooh Sticks"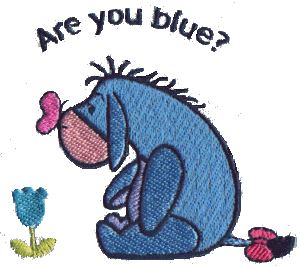 ---
Page last maintained on July 3, 2001
Back to previous page.
---
All material is ® and © by their respected owners. All rights reserved Disney. Use of copyrighted and trademarked material is for entertainment purposes only; no infringement on the original copyrights or trademarks held by the respected owners is intended or should be inferred.