Link Exchange

Do you want to exchange links with me? If you have a page of any of the Hundred Acre Wood characters, then choose which banner you would like to use, copy and paste my html code below the banner image (the size of your banner may be 400 pixels wide x 60 pixels high or 480 pixels wide x 60 pixels high ). Then email to me your web banner along with your URL address and you will be on my links page.

Thanks,
Eeyore Girl


Also, if you like, you may use my new button to add to your links page. Just copy the html code below.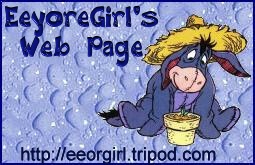 This page was created and last maintained by Eeyore Girl on June 18, 2005.
All material is ® and © by their respected owners. All rights reserved Disney.
Use of copyrighted and trademarked material is for entertainment purposes only;
no infringement on the original copyrights or trademarks held by the
respected owners is intended or should be inferred.