Hello and welcome to my page dedicated to the lovable Eeyore, who is one of the many friends of Pooh in the Hundred Acre Woods. Some people are Tigger fans because of his happy and bouncy attitude in life, such as my husband and some friends of mine, but I have always rooted for the "underdog" such as Eeyore, because we can all relate to this character in some way or another. "How?," you're asking?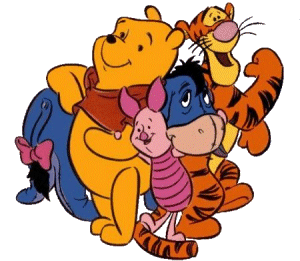 We all have our bad days like Eeyore, and we all have friends like Pooh, Tigger, Piglet and Rabbit to help pick us up and to cheer us on to let us know that life must go on and so do we.
And may you admirers of Eeyore enjoy my page. You can also go to my Word Search and print it out to see how many of the characters of the Hundred Acre Woods you can find, or go to my Hot Bar Skins page where you can download free skins that I made for your Netscape or Explorer browser bar.
You can go to my pictures page and see the different pictures that I have collected.
Be sure to come back here and email me to let me know what you think of it. Thanks for noticing my page!



(doll base by Josie)